Celebrating World Book Day 2019.
Posted on: 14th Mar 2019
Our Library is Buzzing!
Last week was World Book Day, a worldwide celebration of writers, books and reading. The whole school got involved and excitement ran high in our library where students were treated to a brilliant range of costume characters and quizzes, short stories and competitions, cupcakes and book tokens.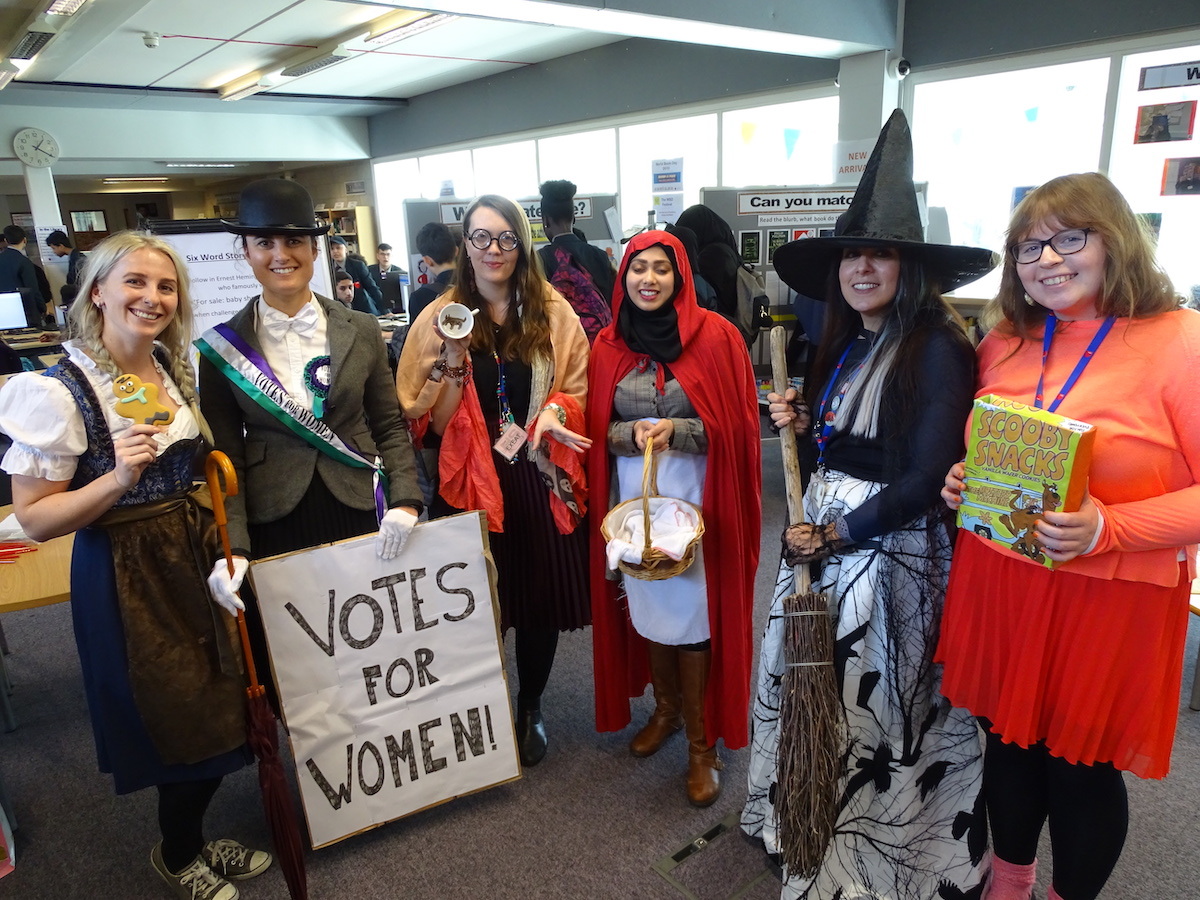 For World Book Day 2019, many of our staff dressed as literary characters and challenged students to guess who they were.

Well done to everyone who entered our World Book Day competitions, and congratulations to the following winners who each receive a £5 token for our upcoming Book Fair:
• 8S's Fahim Rahman is the winner of Are You A Potter Head?
• 7R's Tyler Walker wins the Classic Fiction Trivia.
• And 7S's Emma Mulvey is winner of the Emoji Book Quiz.
Another highlight of our World Book Day 2019 celebration was the 6 Word Story competition, where students are challenged to tell an intriguing and engaging story in just 6 words. We're also delighted to announce that the winner of our 6 Word Story Competition is Yasmeen Molokhia 8S, and you can read many of the fantastic entries below:
6 WORD STORY COMPETITION


1st Place (winner of book voucher): Yasmeen Molokhia 8S
'I leave. Dog panics. Furniture shopping.'

2nd Place: Jada Francis-Kent 8A
'Coffee before art. Goodbye straight lines.'

3rd place: Shayan Mohammed 9S
'Biking girl. trailing dress. Broken wheel...'
And here are some more great entries we liked:
I can't fly, once I could. – James Farmer 8S

I stood, overwhelmed by impenetrable darkness. – Imran Ahmed 8H

And her last words changed everything. – Yasmeen Molokhia 8S

My muffled screams echo. Suffocated. Lost. – Oumnia Taleb 8V

The forbidden house... now for sale. – Yasmeen Molokhia 8S

Robs shop. Gets away, tells everyone. – Yasmeen Molokhia 8S

Don't sleep, you won't wake up. – Zohra Jelali 7A

And some bonus teacher stories!

· Adult shoes, not for sale. Worn. – Mr Marcus

· Her hand shook; the gun exploded – Ms Gwinnett

· For her, it only ever rained – Ms Metselaar

· An open paper; lines left, blank – Mr Reid
Thank you to everyone who helped make World Book Day 2019 such a great success. Whether it's boy wizards or geek girls that get them interested, we love to see our students excited about books!