Haverstock Students Hit The Slopes!
Posted on: 10th May 2019
Haverstock Students Hit The Slopes!

In the Easter holidays, 16 Haverstock students travelled to Andorra for a fantastic week of skiing and snowboarding.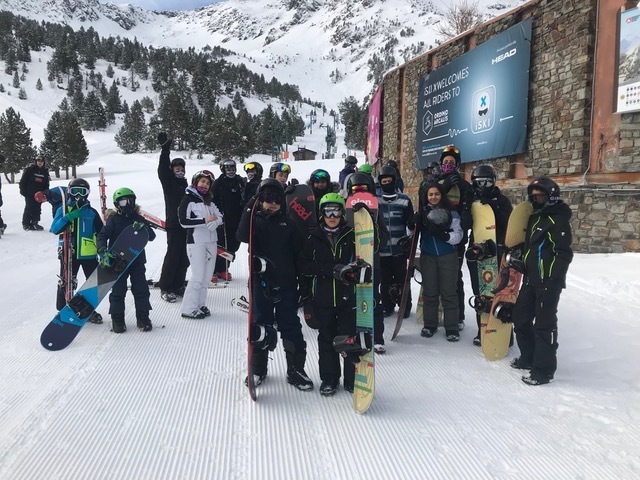 16 Haverstock School students take to the slopes on our annual ski and snowboard trip to Andorra, Easter 2019.

The group was a mix of all ages and abilities. Half of the students had come before, and this year we were pleased to be joined by 8 students who were completely new to Alpine life.
The students soon got into the swing of things and were on the slopes early each morning for a full 5 hours of lessons. The students who have come before were in the intermediate or advanced ski group, while the new snowboarders learned the basics on the nursery slopes.
After a day our beginners had all transitioned on to the green slopes and were starting to get to grips with their snowboarding. By the midpoint of the week, they had already learned enough to control their boards and were trying out harder runs higher up the other side of the mountain.
By the end of the week every student had made fantastic progress. All had completed the blue runs, and our more experienced boarders and skiers had mastered the red and attempted the black runs.
'It's a brilliant chance to spend time and have fun with your friends as well as learning a new skill' Sabrina, Year 10
The trip isn't just about the action on the slopes; it's also what they do in the down time. Bowling, quizzes, sports and shopping were all on the agenda in this week away, and our group really enjoyed getting to know students from the other schools who were with us. It's a great trip where new skills are learnt but also lifelong friendships are forged.
'It's a really good experience and you get to go out in the evenings.' Sumayyah, Year 10
Next year's trip takes place from 3 to 10 April 2020. To find out more, please see Mr Collier, Ms Hernandez or Mr Hardman or collect a letter from the school office now.
'I would encourage everyone to come on this trip, to take a risk and learn something new. You have nothing to lose!'