Female Students Meet Inspiring Women.
Posted on: 6th Mar 2020
Inspiring Women.
This Sunday, 8 March, it's International Women's Day. To celebrate, we invited 6 inspirational women to visit Haverstock School and meet with girls from Year 7 through to Year 13. Our high–flying guests included a clinical psychologist, a lawyer, an obstetrician, and commercial managers from Mace and HS2.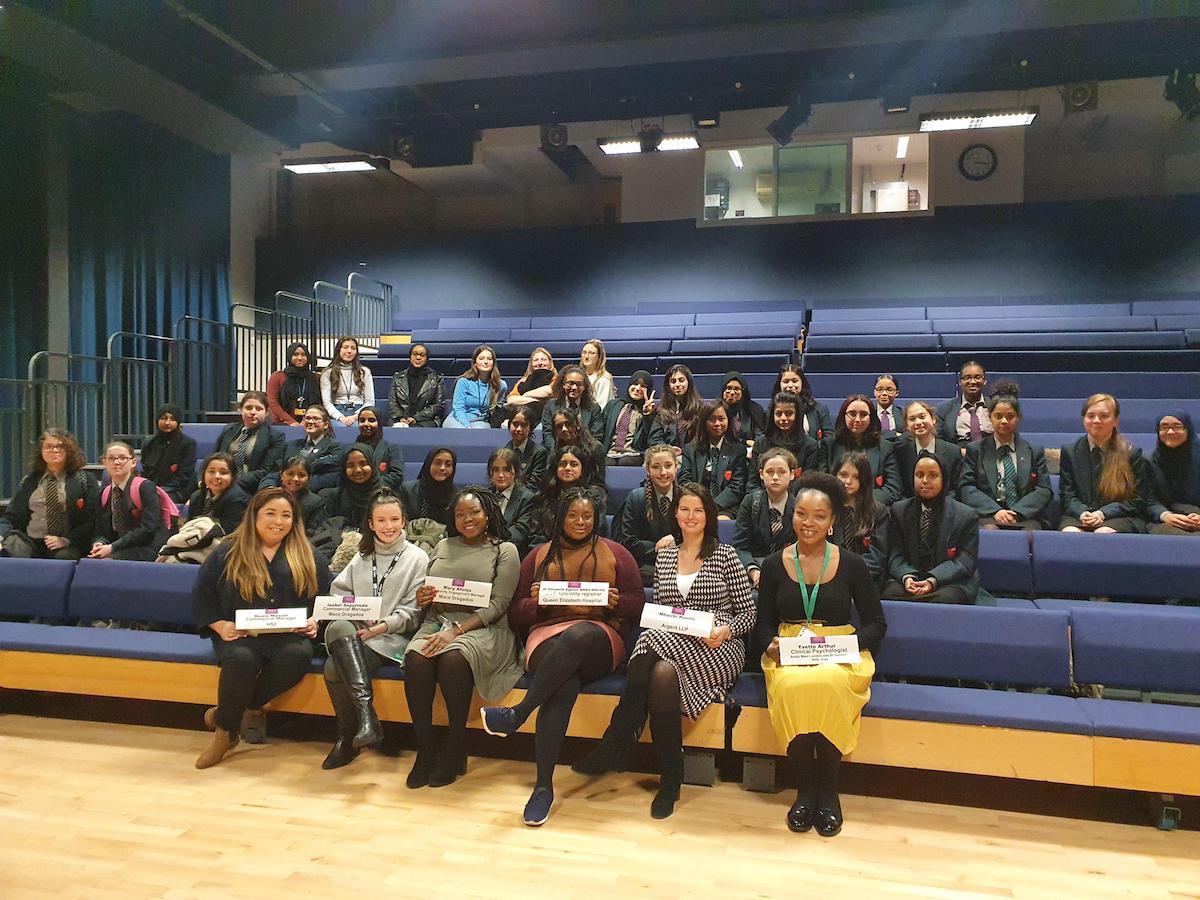 41 female students meet with 6 inspiring professional women, for International Women's Day at Haverstock School, Camden, London.
41 of our students came to hear these impressive women talk about their career journeys, the personal challenges they had overcome along the way, and how they dealt with their own day to day experiences of sexism and racism. Our visitors gave an optimistic message by explaining what they would say to their younger selves: 'work hard but be kind to yourself!'

A Year 13 student sums it up, 'They were very inspiring, powerful role models and also relatable. I liked that they were from different backgrounds.'

Read what our students say below,
"It was really inspirational for us young women to listen to other women who have made it to the top of their fields which are usually male dominated, it showed us we can tackle anything life throws at us" – Year 10 student

"Women should work and not be judged by men, it was really inspiring and interesting to learn from other women and to meet them" – Year 8 student

"It was inspiring and showed that even if you get rejected you keep trying and you will get there at some point" – Year 10 student

"It was inspiring and showed me that I can be whatever I want" – Year 9 student

"Very inspiring, powerful role models and also relatable. I liked that they were from different backgrounds" – Year 13 student

"It gave me an insight into more careers and the wider world of work" – Year 12 student

"It was really good as we got to learn about how women don't give up" – Year 7 student

"Really helpful to speak to role models. It has motivated me to go further in my education and the world of work" – Year 12 student

"I liked that they were down to earth even though they were successful in their chosen professions, I was able to relate to them" – Year 12 student