Exciting Debating News At Haverstock!
Posted on: 27th Nov 2020
The New Haverstock Debate.
Last month, we hosted our first Haverstock Debate featuring teachers and students. To a packed house, the teams debated the motion: Should members of the black British community be paid reparation for slavery?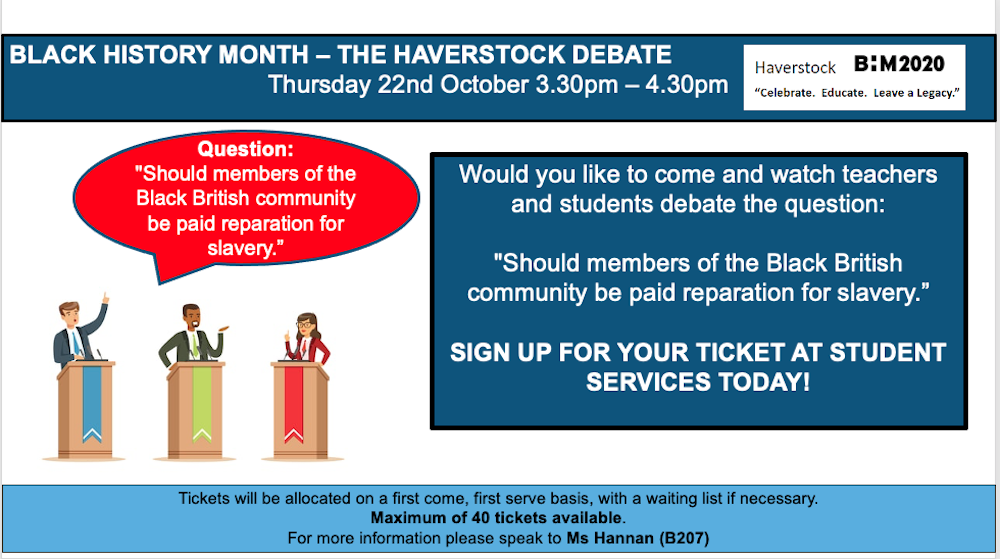 Poster for our first Haverstock School Debate
Year 11 student Arsham reports: 'The first debate of Haverstock School was an amazing, entertaining and ultimately a fascinating experience. Both the proposing and opposing teams made good arguments and ultimately they made the audience conflicted. The judges however thought that the proposition worked together as a team and their argument flowed better. Many members of the audience agreed, many liked the closing speech of the proposition, which ultimately mentioned that humans are a community and if we don`t help each other as a community who are we?'
Congratulations and well done to everyone who took part in this exciting new event.
Join Aneesa For A Thrilling Grand Final!
We are always proud of our students' ability to debate important issues. So we are immensely proud to report that Year 12 student Aneesa has used her remarkable debating skills to earn a place in the national final of the Jack Petchey Speak Out competition.

Aneesa beat 20,000 entrants from across the UK to win her place in the last 15: a truly exceptional achievement. The Grand Final takes place online next Tuesday, 1 December at 6pm and you can support Aneesa by watching live online with the link below.

We know Aneesa has the ability to win, but whatever happens we could not be more proud! Please join us in congratulating her on reaching the national final, and support her by watching the final at 6pm on Tuesday.
Watch the Grand Final live here on 1 December.
Watch Haverstock Sixth Form student Aneesa in the Jack Petchey Speak Out Challenge Grand Final 2020!
'When students participate in debate, they learn to study issues in depth and from perspectives, a skill I used everyday in the Senate.'


– Barack Obama, US President from 2009–2017