Haverstock Music Scholarships
Does your child love music? Are they passionate about modern music and would love to learn an instrument and to perform and record with professional support?
Applications are now open for our Scholarships in Modern Music for Year 7 students starting in September 2020, in partnership with The Roundhouse and Restore the Music.
Scholars are selected based up on their musical aptitude* and receive:
Free instrument hire
Free tuition for five years
Professional recording opportunities at The Roundhouse.
Workshops, mentoring and trips to help them to become the musicians of the future.
Find out what a scholarship is really like, from a student's perspective, on the video here.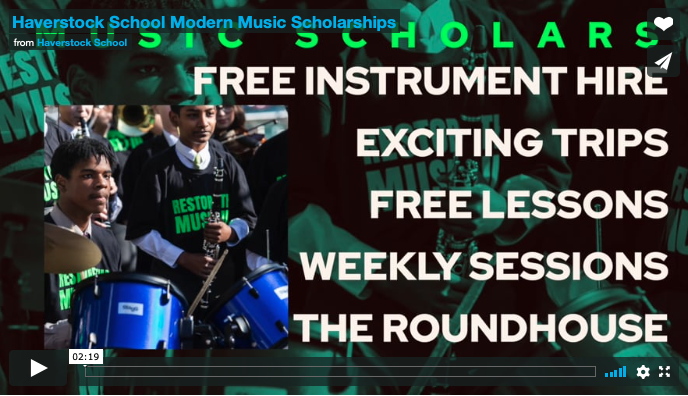 *What do we mean by 'aptitude'? Your child needs no experience of playing an instrument to apply. Places will be given based upon the outcomes of a test to assess their potential in music.
If you are interested in applying, please complete the Music Scholarship application form. Applications will only be accepted for children who are starting Year 7 in September 2020.
We are currently finalising the details of this year's Aptitude Test, which will take place on 27 June 2020. The deadline to register for the test is 12 June 2020.
If you would like news and information on the scholarships for the 2020 Year 7 application process, please see the attached form below, and if you have any questions, please e-mail the office: office@haverstock.camden.sch.uk